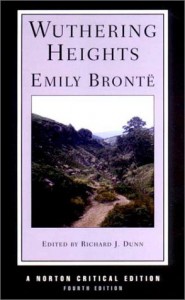 A tale of revenge, envy, pride, love denied, family strife, with an orphan in it? This should be my jam! Alas, it was not.
This was a weird read for me. I kept trying to figure out why it was such a slog. I usually love to read about people I love to hate, and almost every character qualifies. Instead I hoped Lockwood and Nelly would just have sex already so they'd shut up. (Also, I'm sure I cheated in high school. I definitely did not read this on the dates I've scribbled in the front cover. Bad Ella!)
I do admire the twisted way Emily Brontë told this tale. It's a complex way to get a story out and very smart. While this is clearly brilliant writing, I just didn't fancy it. It's a bit like some Bach -- I can appreciate the technical skill and accomplishment, but I just don't enjoy listening to it.
I never know how to award stars in this situation? It's not really a matter of I liked it versus I didn't. There's an added dimension that demands a few stars... Anyway, I'm glad I finally forced myself to finish the last 18 pages. At least it's over, and I can now say I've read it. I do wonder why I had the idea that this was a romantic story, and I'm sure I would have liked it less if it was. I can't honestly figure out why I disliked it, but I did.
(This is one where I'm almost positive I would prefer the movie.)